How to Locate Us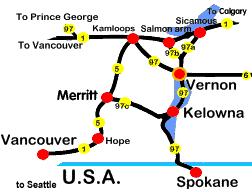 We are located in the beautiful North Okanagan Valley, south-central interior of British Columbia, Canada.
The Okanagan region is semi-arid and best known for its warm, sunny weather, minimal rain, magnificent lakes, challenging golf courses, wineries, orchards and unlimited recreational activities.
Vernon is nicely situated approximately halfways between Vancouver, B.C. and Calgary, Alberta.
Vancouver is 441 km (5 hr drive)
Calgary 556 km (6 hr drive)
Seattle 550 km (6 hr drive)
Spokane 454 km (5.25 hr drive)